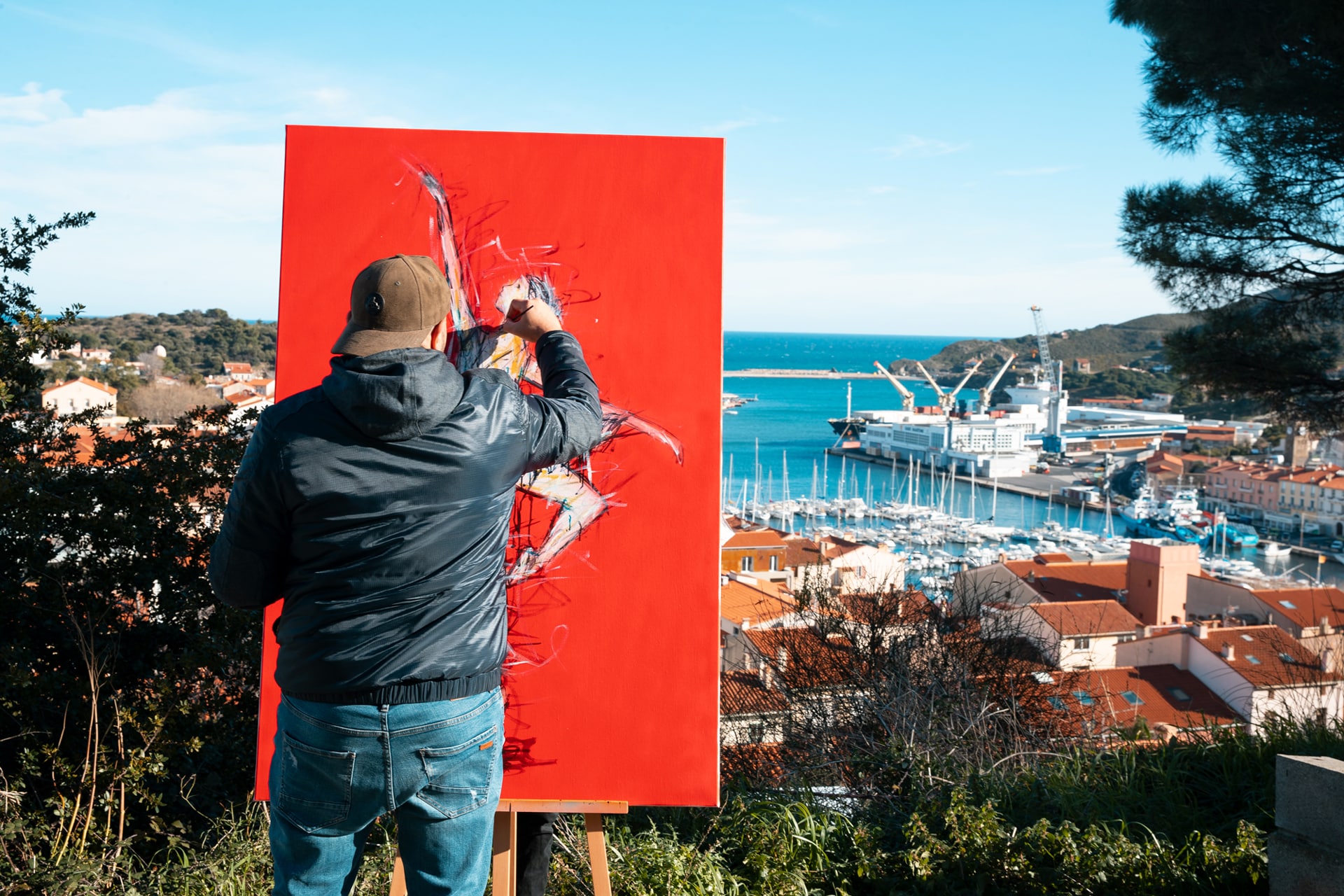 KiKo painting opposite Port-Vendres where he grew up and where the family tuna boats are still moored.
Manuel Fernandez, alias KiKo, is a French artist who was born in 1985 in Martigues, a town near Marseilles known as the 'Provençal Venice', which inspires his Mediterranean colours and more particularly this burning orange that is so present in many of his works.
KiKo has always had a taste for drawing. As a child, people said that for him drawing was as easy as breathing. With a single firm line, he sketched the emotions that he could not express with words. At school, he was only interested in art class and it seemed his path was already marked out. But art was never the topic of conversation in this family of sailors whose first love was the sea, and tuna fishing in particular. From an early age, KiKo was on the family tuna boats, 30m-long giants of the seas moored in Port-Vendres, exchanging his pencils for fishing nets; he couldn't just abandon ship! When he was older, he spent long months at sea hunting down banks of fish colonised by tuna. There, he learned discipline, resilience, teamwork, how to control his fear, go without sleep, and be alone. To escape this tough sailors' life, and the sea that constantly kept him in check, KiKo created an imaginary world where childhood, suspended in time, would inspire all his artwork.
Meeting his wife was a critical moment. She came from a family of artists and his father-in-law soon opened the doors of his studio to him. He then returned to his passion for art and tried out different media on increasingly large canvases. It was the multicoloured Chinese inks that were to make their mark on KiKo. Drawn to their fluidity, he decided not to use them on the traditional paper but on canvas. They gave him a unique signature that reconciles street art with expressionism, and favours emotion over reality. Trails of black Chinese ink running down a canvas, symbolically reminding us of tears or blood, testify to a sadness that gently contrasts with the gaiety of his coloured backgrounds.
Childhood, the epicenter of everything!
f KiKo's success has been dazzling, it is because he immediately displays artistic DNA that is recognisable at first glance. To his Chinese inks, is added an artistic approach that is simple because of its clarity, authenticity and commitment – just like the artist. KiKo only paints to create the emotion that will revive our inner child. For this reason, in 2017, when he decided to devote himself entirely to his passion for art, he symbolically chose 'KiKo', his childhood nickname, as his pseudonym.
All of KiKo's art is a tribute to childhood and the privileged place it should have in the hearts of all children around the world.
A fervent defender of the protection of children and respect for their fundamental rights, he is involved in many charitable works and hopes that his art will contribute to increased action in favour of children.
Because, although the sea stole KiKo's childhood, art allows him to (re)live it with every brush stroke.
In just a few years, the Les Mômes (The Kids) paintings by KiKo have become frequent travellers; in Hong Kong, Los Angeles, Miami, Singapore, Melbourne and Europe, they are to be found in the homes of collectors, influencers and the many KiKo fans who have followed him faithfully from the beginning.
Every year, they are the subject of solo exhibitions in well-known art galleries in France and abroad and in contemporary art fairs.
KiKo's artistic journey definitely has wind in its sails!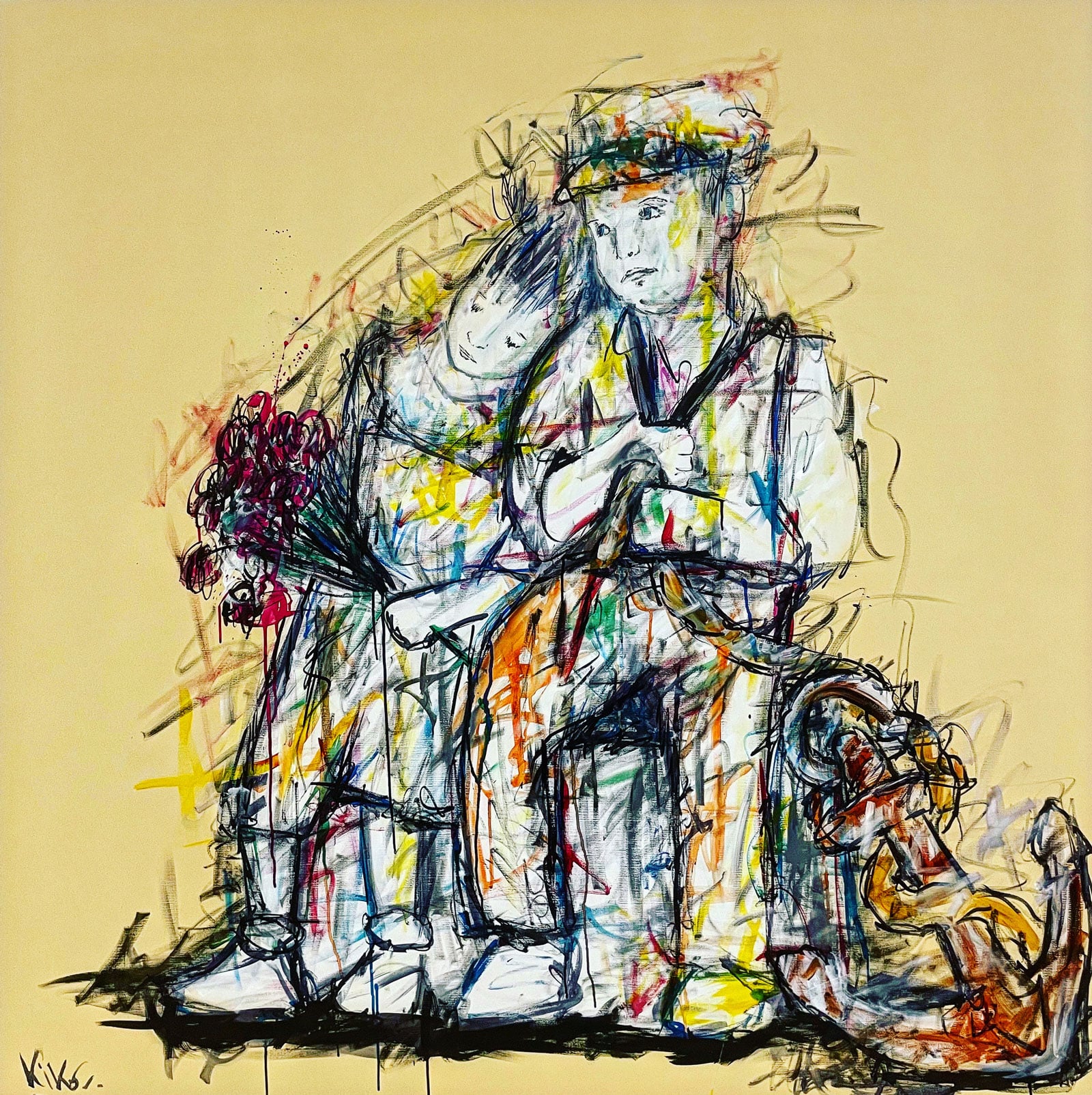 "Jean et Marie-Thérèse", 150x150cm, 2021, Indian inks, aerosol and resin on canvas.
This canvas, which represents KiKo's grandparents at the port of Marseilles, is now to be found in the home of a Hong Kongese collector.
Manuel behind KiKo
In ten questions…
Who is your favourite artist and why?
Amedeo Modigliani… because the emotion of the human soul emerges from his canvases.
What do you absolutely need to be creative?
My wife Rachel, my children; I like when they are near me. The ideal studio is my living room!
How would you describe yourself in a few words?
The Robin Hood of childhood! The Peter Pan of art! A mixture of the two…
What is your favourite quote?
"In every child, there is an artist. The problem is knowing how to remain an artist as you grow up", by Pablo Picasso.
What is your source of inspiration?
Childhood! The one I missed out on. The one that was stolen… and also the happy and protected one that all children around the world should grow up in.
What is your artistic obsession?
Making an emotion felt.
What is the artistic secret that you don't disclose?
The resin technique … because it is a technique and I prefer to talk about art.
What is the role of art?
Art has all the roles… but amongst others, the role of connecting humans and conveying important messages.
So what is your message?
Let's protect the children, all the children!
What advice would you give to an emerging artist?
Let your dreams sail…
The place behind the artist
The studio