Where we slip into KiKo's private world and unlock some secrets of his creative process
The studio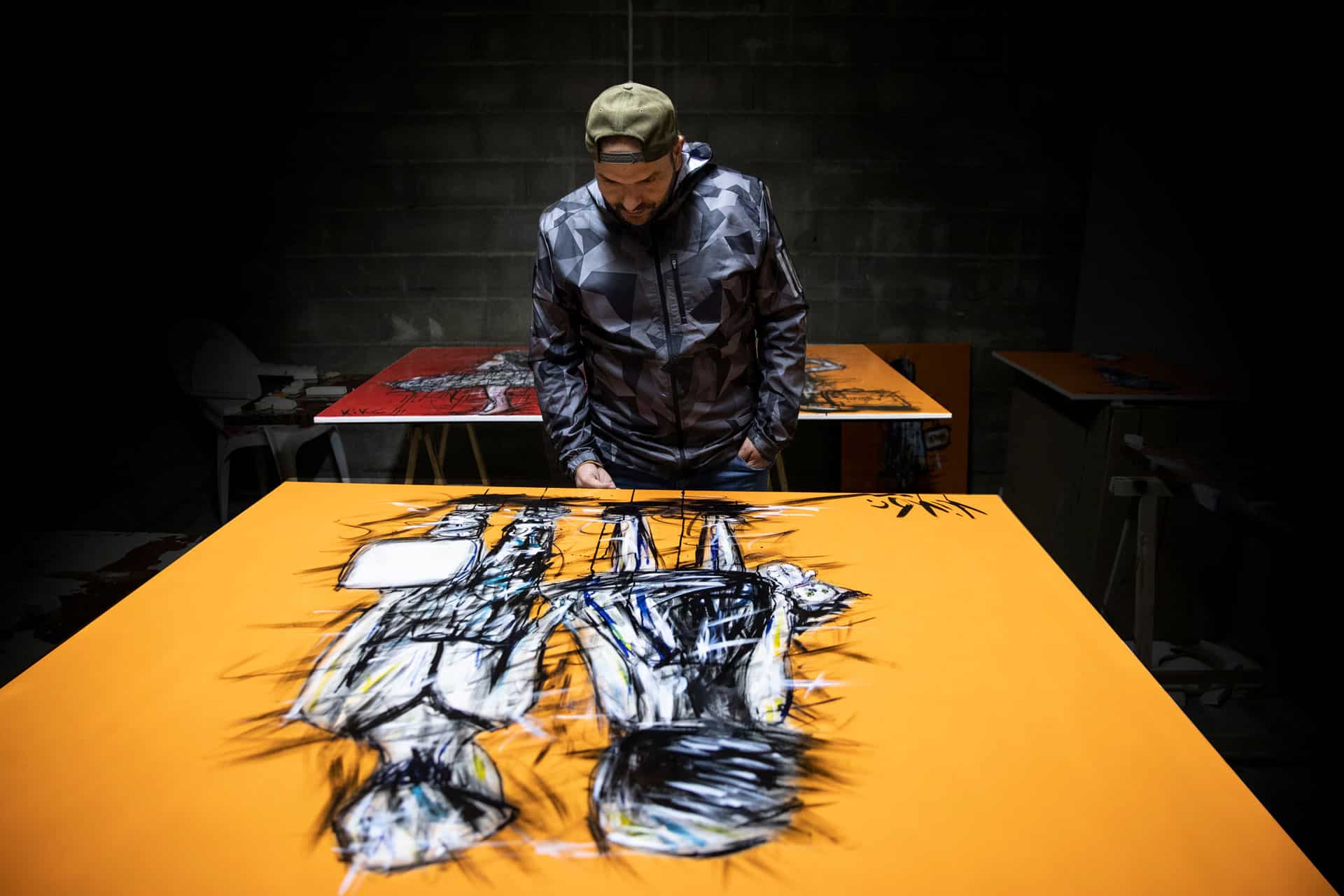 While KiKo shows undisputed talent, inexhaustible inspiration and great strength in his work, his very personal technique reveals artistic DNA that is recognisable at first glance.
An artistic signature in Chinese ink
KiKo begins by sketching freehand on the canvas in charcoal. He draws quickly, with energetic, dramatic lines, as if animated by an invisible force that guides his every move. In the urgency of creation, he feeds on this adrenaline that resembles that of a graffiti artist in front of a forbidden wall. The paradox is there; all the complexity lies in preserving the simplicity of a child's drawing to create this emotion that will reach the heart of the spectator.
Then follows the work with Chinese inks, which are applied with quick, dry brush strokes. KiKo starts with black ink to bring the child to life, then multicoloured inks fill the charcoal sketch and liven up the canvas.
Artists who master Chinese inks use it mainly in black, on paper, and therefore on a small scale. KiKo, on the other hand, works with all colours of inks on very large-format canvases. He makes this his artistic signature and gives Chinese inks a new and very contemporary lease of life.
The backgrounds can be one solid colour or full of children's drawings.
The plain backgrounds are produced using spray paint.
The backgrounds that include children's drawings are created using only Chinese inks. As if they had become the masters of the painting, the children take the spectator on an emotional journey during which they tell his/her story. This is a subtle mise en abyme (a work placed within a similar work) orchestrated by the artist, who goes even further in his artistic quest: shouldn't creating simply be child's play?

KiKo finishes his canvases with an even layer of resin. This is a complex technique that has to be perfectly mastered so as not to damage the canvas. While the resin gives power to the Chinese inks and brings to his canvases their characteristic ultra-gloss, KiKo also reminds us that what is essential is always to be found beneath the varnish of the outer appearance: "What's important is the child!". 
Understanding kiko's movements
Creation process
KiKo paints "Innocence" under our eyes…
Video of the creation of a work.
Interview with KiKo & discovery of his studio on video.
ENTER KIKO'S POETIC WORLD
(re) View works by KiKo